Designing cabinets for a new home can be a significant undertaking. Evergreen Homes is happy to highlight the excellent work done by J&R Wood Products as our featured subcontractor of the month. Their commitment to quality is evident in the materials they use and the methods they follow designing and building custom cabinetry.
They start by evaluating the floor plan and the customer's wishlist to create a custom cabinet layout in their software, which produces a 3D rendering of the design. Seeing the design in 3D allows you to mentally move into spaces like the kitchen, because you can visualize how the location of each cabinet element will work for each task, like unloading your dishwasher, prepping food for dinner, or simultaneously baking and using the stove. Refining your cabinet drawings is so much easier when you can see what the finished product will look like.
Here are some factors to consider when designing cabinets for your new home:
Step 1: Consider Functionality & Storage
The first consideration when designing cabinets is functionality. You should consider the purpose of the cabinets, the items you plan to store, and how often you will need to access them. This will help you determine the size, depth, and type of cabinets you need, and whether you want to include any special features like a pull-out spice rack, KitchenAid lift or wine storage in your kitchen, a linen cabinet with outlets in your bathroom, or storage for your audio equipment in your great room.

Step 2: Configure the Layout
The layout of your cabinets should be functional and efficient. You should consider the flow of your kitchen and the placement of appliances to ensure that the cabinets are easily accessible and not obstructive. Think about how opening doors in your bathroom might interfere with access to your vanity cabinets and avoid "door wars". Or whether having a tall linen cabinet is important in the absence of a dedicated linen closet.
Step 3: Determine Your Style
The style of your cabinets should complement the overall design aesthetic of your home. You should consider factors such as the door selection (for example, a recessed-panel door like your classic Shaker, a contemporary slab door, or a raised-panel door which has options for different frame profiles); the crown molding choice; and the hardware color and style for your knobs and pulls. These choices should complement your other interior finishes, like your trim, lighting, and plumbing fixtures.
Step 4: Choose Material & Finishes
The type of wood you choose and whether you want stained or painted cabinets are important factors in the overall look, as well as the ease of cleaning and maintaining the cabinets over the years.
Step 5: Determine Your Budget
: Finally, you should consider your budget when designing cabinets for your new home. Sometimes the most efficient and elegant storage solution is accomplished with a cabinet, while other times open shelves or a small closet may offer greater flexibility at less cost. Make sure your cabinets are accomplishing your goals, and it will be money well spent.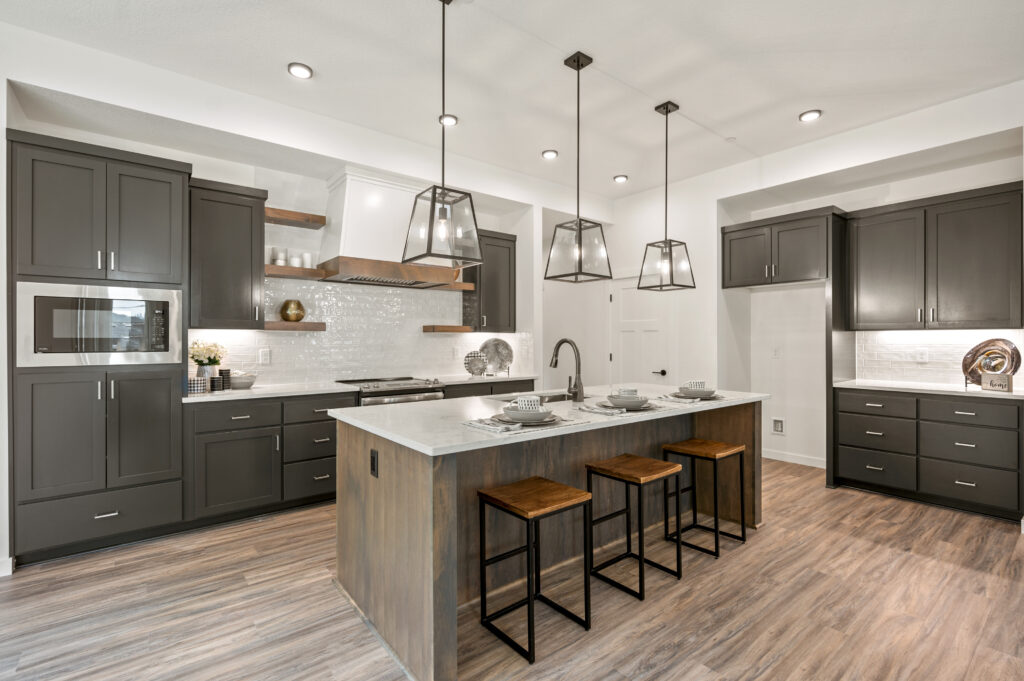 Overall, designing cabinets for a new home requires careful consideration of functionality, storage, layout, style, material, finish and budget. To find some design ideas, you can browse through our website's photo gallery, and download our custom app to start viewing photo galleries and saving your favorite photos.
By taking the time to carefully plan your cabinets, you can create a space that is both beautiful and functional. And when your home is built by Evergreen Homes, you will have the advantage of the expertise and quality of custom cabinetry designed and built by J&R Wood Products. Contact us to get started designing your new home!