It's normal to feel a bit let down, tired, or depressed this time of year. The fun of the holidays is over and the weather usually, well, kind of sucks. There are more gray days than sunny days, and we don't see much daylight either. Sometimes a snowfall or two will break the monotony, but what we're all really waiting for is the return of spring. While it's tempting to curl up at home binging on shows and snacks, it's better for your mental and physical wellbeing to shake off the seasonal blues and get outside. It's not exactly sunny California here, but we're not under ten feet of snow or in blizzard conditions either. The Pacific Northwest is pretty temperate year round compared to other regions. Also, we live in a vibrant metro area with many activities and community events that are sure to liven our spirits.
Here are some ways to beat the rainy day blues.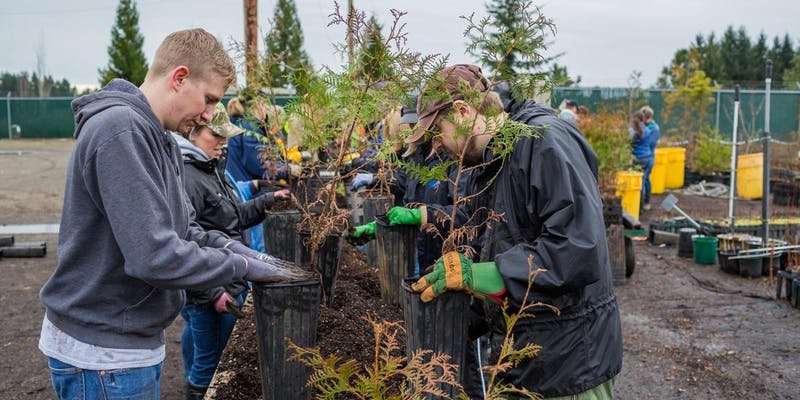 Annual Tree Potting Event
January 21, 2019
Join the Clark County Public Utilities Stream Team from 9am-1pm to help restore salmon habitat by potting up native tree saplings or cuttings in the tree nursery. Training, snacks, tools provided. Activity is outdoors under tents, but all should wear mud boots as there will be puddles! Dress for the weather, bring gloves if you have them. Family friendly, but very young children will find this activity difficult. Those under 16 must have a parent or guardian volunteer with them. Event is at 8600 NE 117th.
MLK Day: A Day On, Not a Day Off
January 21, 2019
Help beautify the beach, park, and garden surrounding the Water Resources Education Center from 9:30am to 12:00pm. Volunteers will pull weeds, pick up litter, and perform a variety of other tasks. This is a family-friendly event. All ages and abilities are welcome. Tools, snacks, and water are provided. Volunteers should dress for the weather and wear long pants and closed-toe shoes. Youth under 18 must bring a signed minor consent form. There will be extra forms available on-site for guardians to sign.
Race for Warmth
January 27, 2019
Join the Race for Warmth to support Operation Warm Heart, a Clark Public Utilities customer-funded program to help limited-income families in crisis situations who need help paying their electric bills. The 10k run and 5k walk/run begins at Clark Public Utilities, 1200 Fort Vancouver Way. The kids fun run begins at 8:30, followed by 10k start at 9:00am and 5k start at 9:05. Be sure to stick around for the after party. Register at 7:00am on race day, or save time and register online until midnight January 26.
Vancouver Night Market
February 1, 2019
A family-friendly, monthly marketplace that celebrates local businesses, highlights the regional talent, and brings the people of our community together. Featuring more than 80 vendors, live music, entertainment, drinks, food and more! Free to attend and open to all ages. 5-10pm, 100 Columbia St.