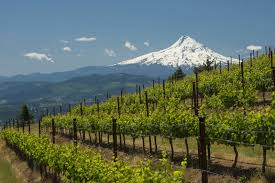 During the current health crisis, many local wineries and tasting rooms are offering curbside, takeout and delivery services until their tasting rooms can be fully operational again. We suggest that you check their website or call ahead to find out whether their tasting rooms are open for visitors before you head out. Use this handy guide to plan your tour once they're open.
While California is known as a top US wine region, the Pacific Northwest has been putting itself on the map. Fertile soil and climate conditions around Washington and Oregon are perfect for cultivating and crafting many varieties of truly fine wines—with our very own "wine country" right here in Clark County. The fertile, rolling hills around Ridgefield, Battle Ground, and Yacolt are gaining notoriety for producing fruit for premium wines. Some of these wineries are conveniently located on the North Clark County Scenic Drive, a 70-mile rural driving tour of historic sites, small farm communities, parks, and natural areas. For a more urban tasting experience, The Vancouver Waterfront has become Vancouver's own wine tasting hub with six wineries already onsite and a seventh on the way.

Whether you're new to the wine scene or have already acquired a discerning palate, you can't go wrong with a visit to our local wineries and tasting rooms. Many have wine clubs worth joining to receive discounts and limited-edition releases. Cheers!
Some other Vancouver tasting rooms…

Koi Pond Cellars
Most of their wine is made from grapes grown in the eastern side of Washington and Oregon which is an official American Viticultural Area (AVA) known to produce excellent, award-winning wines. 212 E Evergreen Blvd.
Burnt Bridge Cellars
Named for the creek that runs through Vancouver, this is a true urban winery experience inside a converted 1930s auto garage. 1500 Broadway
SuLei Cellars
This is a satellite tasting room for their boutique winery in Walla Walla which employs a combination of Old and New World winemaking processes to craft distinctive quality wines. 613 Main Street
Vineyards & Wineries
Battle Ground

Dolio Winery
This artisanal winery specializes in Italian varietals with a blend of traditional and innovative processes, yet minimal interference to achieve high-quality wines. 11001 NE 314th Street
Rezabek Vineyards
These wines are branded Daybreak Cellars, lovingly handcrafted from grapes grown in fine Washington and Oregon vineyards. 11700 NE 279th Street
Heisen House Vineyards
On the site of a historic pioneer homestead farm, this small-batch wine is made with a philosophy of "minimal intervention" resulting in a unique low-sulfite, vegan, unfiltered product. 28005 NE 172nd Avenue
Rusty Grape Vineyard
This winery is one of many adapting to the times by offering  "grab and go" service that has expanded beyond its wines to include an Italian market offering pre-made takeout meals.
16712 NE 219TH Street
Ridgefield
Stavalaura Vineyards and Winery
What started as a high school horticulture project in 2003 became a winery, producing wines from three grape varietals grown in their own vineyard plus other quality grapes from Eastern Washington. 29503 NW 41st Avenue
Windy Hills Winery
What began with a Christmas tree farm became a thriving winery built on the same spirit of community unity and joy of tradition. 1346 South 38th Court
Confluence Vineyards & Wineries
The name of this boutique winery is derived from the area where rivers meet, which is symbolic of their vision of a place where people meet to enjoy high-quality wines.
19111 NW 67th Avenue
Gouger Cellars
This winery in a remodeled firehouse specializes in sparkling wine as well as unique blends. 26506 NE 10th Avenue
Three Brothers Vineyard & Winery
These limited production award-winning wines are produced from handpicked grapes on from the picturesque estate vineyards. 2411 NE 244th Street
Bethany Vineyard & Winery
Fifteen varieties of grapes grow here in small blocks, hand-picked, and skillfully crafted into premium wines. 4115 NE 259th Street
Vancouver
English Estate Winery
These wines come from grapes grown in an estate vineyard on a historic five-generation farm. 17806 SE 1st Street
Heathen Estate
Discover this unique wine, hand-produced in small batch fermenters from grapes grown in Vancouver and on the estate. 9400 NE 134th Street
Yacolt
Pomeroy Cellars
A great stop to make on the North Clark County Scenic Drive to taste some locally crafted wine on the site of the historic landmark Pomeroy Farm. 20902 NE Lucia Falls Road
Moulton Falls Winery
Grapes from eastern Washington are made into quality wine in this pastoral setting with views of the Cascade foothills. 31101 NE Railroad Avenue