People relocate for many reasons. Often it's for work, and many companies provide relocation services for their new or transferring employees. Sometimes the reason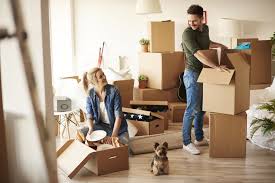 for a long distance move is more personal, such as changing family situations or retirement. Facing a residential relocation move on your own can be overwhelming.
Here are some tips for a successful relocation move:
Lighten your load: This is a great time to get rid of clutter, old furniture or appliances you will replace with brand new upgrades when you arrive at your new place. Social media marketplaces such as Facebook Marketplace, OfferUp, and Nextdoor are great places to find buyers for used household items. You can also hold a traditional garage sale, then donate whatever doesn't sell. Some community thrift stores even offer pick up services.
Start the process: If you own a home, work with a reputable Realtor® to list your home on the market. Many agents either provide relocation services, or connect you with a relocation specialist to assist with home buying and resources in your new community. Remote services have become so enhanced by digital tools now that agents can often complete transactions without the buyer or seller present.
Get packing: In order for your home to show well, now is a good time to pack up anything you don't use on a daily basis. More options in moving services such as moving containers, also known as (pods, portable on demand storage) are a great way to get your stuff out of the way and moved to your new city before you even get there.
Do your homework: Once you have your new address and a move-in timeline set, get going on changing your address and arranging new utility services. It's also wise to find out the closest medical care to your new residence, and learn about local school options if you have kids. (Evergreen Homes includes this information on our website for all the communities we are building in.)
There are many moving parts involved in the relocation process and plenty of opportunities for potential glitches to arise. But you don't have to go it alone. There are professional services you can enlist to buy or sell a home even from out of town, and others to get your household belongings packed, moved, and unpacked (some will even assemble furniture). Do beware of fraudulent moving services and do your research when selecting a professional moving service.
If you're facing an upcoming relocation to the Vancouver, Washington area, take a look at our Move-in Ready homes or our Plan Catalog. Evergreen Homes can even design and build a home for you while you prepare for your move. While contracts and communication can take place via email, we recommend that customers be available on site for the electrical walk-through and selections meetings. You're welcome to visit and see your home during the construction process as often as you like.
Contact us to learn more about our building process and answer any questions you may have. We're here to help make your move into your new home go as smoothly as possible.