Why Can't I Find a "Base" Price for the Plan I Like?
We often receive inquiries from people looking to build a home, and naturally they want to know whether they can afford to build with us. We get it…you want to be able to determine if the plan you're interested in is within your budget. Generally, people start by asking us, "What's the price per square foot of this plan?" They want a baseline price. So why is that question complicated? The simple reason is that a baseline price is meaningless if it doesn't at all represent what you want to build and where you want to build it. The more detailed explanation takes a little longer…
The plans in our catalog have been built over the past several years, and even if we built the same plan for you, it would have a different total price depending on the finishes you chose for your home – flooring, countertops, tile, fixtures, and any unique features.
The timing of the build matters – due to supply chain issues, fluctuations in transportation costs, and volatility on everything from lumber to garage doors to quartz slabs, the exact timing of when a house is built plays a significant role in determining its final price.
Where your home is built matters. The cost for your building permit depends on which municipality it's located in, and the cost for utility service depends on whether it's being built on a subdivision lot or on a tax lot (private property). Are we connecting to city water and sewer service, or building a well and installing a septic tank? Will the driveway be 20 feet or 200 feet long? Those costs have a big impact on the total price.
Planning
As outlined in our "on your own lot" page, the first step to figuring out total construction costs involves the cost and size of the lot it will be built on.
The plan you want needs to fit within the dimensions of the lot and take into account the setbacks (distance from the house to the property line) on the lot. This is what's known as making sure the "building envelope" fits on the lot.
Subdivision lots tend to be easier and less expensive to build on than tax lots because they are already fully graded, connected to utilities (such as municipal water, sewer, and power) and have been provided for with basic amenities such as paving, streetlights, stormwater management facilities, and even trees. Tax lots typically require expensive site work and infrastructure before they are considered "build ready".  Clearing (such as of vegetation, rocks, or existing structures), long driveways, and installing utilities (such as a well, septic system, and "line extension" to bring sufficient electrical power) are all commonplace investments necessary to prepare your building site.
The topography of your site will impact your construction cost, because building on a flat lot is less expensive than building into a slope. Excavation and the foundation of your home are big line items in your construction budget, and the more "steps" in your foundation and the height of the concrete walls has an impact on cost.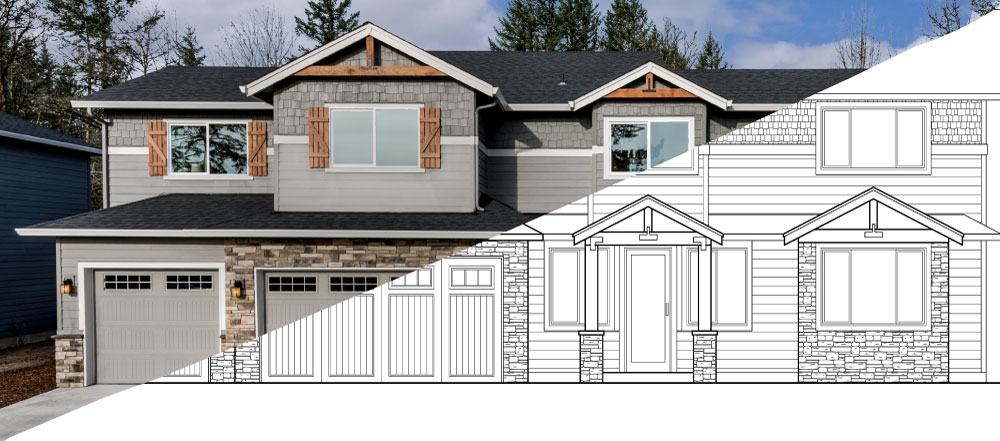 Providing a Ballpark Cost Estimate
Once we understand the characteristics of your lot, and you've chosen a plan from our catalog to use as a starting point, we're better able to provide a rough ballpark price that includes such things as: high-end floors/tiles/quartz counters, super-efficient Trane heat pump providing AC and heat, air filtration system providing clean air even on smoky days, great room built-ins, and our usual energy efficient triple-pane windows, exceptional insulation/sealing, extra thick and sturdy drywall and subfloors, and the rigorous attention to detail that goes into all of our homes.
Final Budget
Quite frequently our buyers want to use one of the plans they find on our website, but most of them also want us to customize the plan a bit for them…i.e. add this feature, make that larger, move this over here.  Those kinds of changes are easy and should result in the final house plan being exactly what you want and need, but they do affect the total price. Once we have modified and engineered your house plans, created your site plan, and drafted detailed custom specifications to your approval, we obtain bids from our craftsmen and sub-contractors to create the budget for building your custom home.
Get Started!
To familiarize you with the quality and attention to detail that goes into all of our custom homes, we encourage you to visit our model home where you can see examples of our work. Then we can talk about your priorities for your new home, and the budget you have in mind.