You've just finished building your dream home and are thrilled to be done. But, the landscaping isn't finished and you're a little (or a lot) short of funds. How can you make your new home just as beautiful on the outside as it is on the inside?
Large projects are always less intimidating (and less expensive) when broken down into separate tasks. Finish your landscape in phases as you can afford it. Here are some tips to make it easier.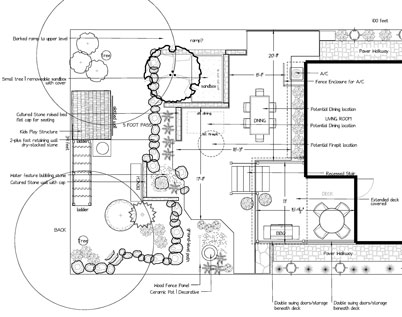 Work with your landscaper
They will help you to create the bones of your future yard. Develop an overall plan, taking your budget into consideration. Determine planting beds, circulation paths, and lawn areas. Fences and other items (such as water features) can be added down the road.
Irrigation
Irrigation can be added later, but it's much easier to install at the beginning of your landscaping process. If you decide to have lawn areas, sprinklers are highly recommended. Driplines are a wonderful addition for shrub and perennial maintenance. But, you can easily learn to do this yourself and install them at a later date if there are zones left open in the basic irrigation setup.
Lawn: seed or sod?
If you install lawn areas at the finish of construction and the weather is favorable, choose a seeded lawn over a sodded one. It will be less expensive and more durable than sod, which doesn't root as deeply as seeded lawns and is therefore less able to cope with hot and cold weather. Sure, sod looks great on Day 1, but seeded lawns are worth the extra time it takes for them to grow.
Hardscapes
Construct the hardscape – retaining walls, paths, patios. If you can't afford a stone pathway now, lay bark nuggets or dust to define the path and add the stone later. Pea gravel (1/8″ to 3/8″ in size) is decorative and works well for paths. Crushed stone comes in various sizes, and is generally used as a base for pavers since its jagged edges allow it to compact well.
Big plants, trees & shrubs
Install the trees and any screening plants, such as large shrubs, to give your landscape structure and an early start on achieving privacy for your yard if desired. Make sure you find out how large each tree and shrub will get so you allow enough room for them to grow. Some grow so fast they'll be towering over your house in a few years, (think Jack and the Beanstalk), and can be expensive to relocate or have cut down.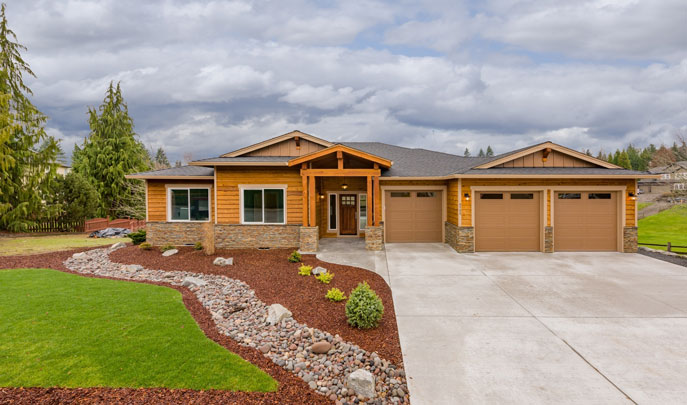 Smaller shrubs & perennials
Plant additional shrubs and perennials as your budget allows. Then add annuals for seasonal color – zonal geraniums, pansies, petunias, or whatever catches your eye. Here is a helpful guide for choosing which plants will work best in your yard, depending on the soil conditions, sun, and shade. You can also opt for container gardening, but be sure to get the rolling plant caddies so you can easily move them around.
Just the minimum
If you can't afford to install any plants yet, fill the beds with bark nuggets or dust, and plant later. They will look surprisingly finished even without plants. And it's so much better to look at than just dirt.
Creating your landscape in phases also gives you time to learn about how you will use your yard and about your plant likes and dislikes. By paying attention to how much sun various areas get, you can save yourself some time and money by putting suitable plants in the right spot the first time, instead of having to move them once you figure it out. Just like building your home, building your landscape is a process that creates a beautiful and useful space and brings great satisfaction. Enjoy!