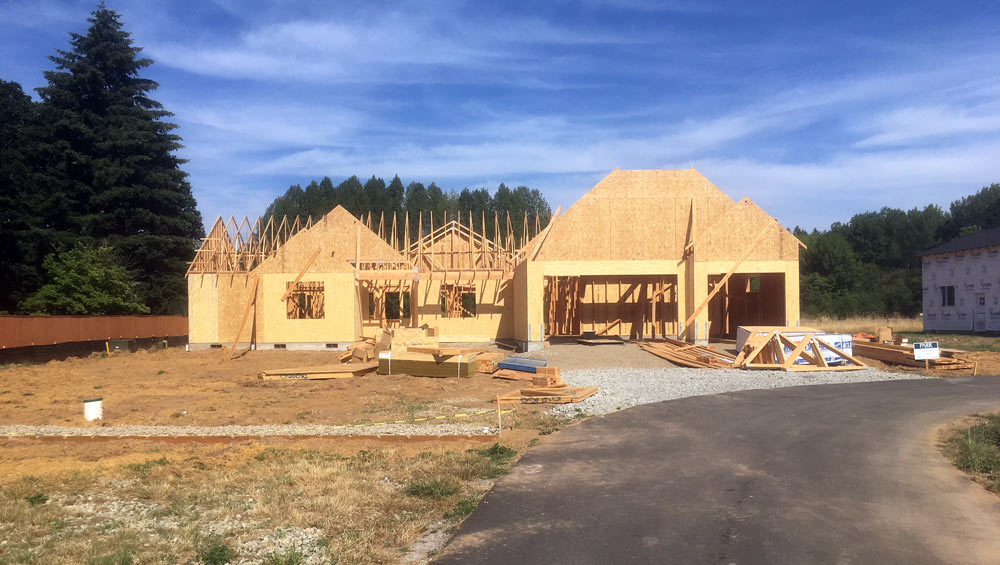 It can be hard to find your dream home, especially if it hasn't been built yet. That's why working with a new home builder is the perfect way to make your dreams a reality. Locally, there is no better partner for such a task than the experts at Evergreen Homes. 
Since 2008, Evergreen Homes has designed and built hundreds of new custom homes. We make sure to maximize the potential for each square foot of your new home to ensure everything is built for beauty, comfort, and affordability. It's no wonder we excel in completing precise tasks in a timely manner: our family-owned business has five former Olympic and elite speedskaters with excellent work ethics. 
Local family-owned new home builder in Southwest Washington, Vancouver, WA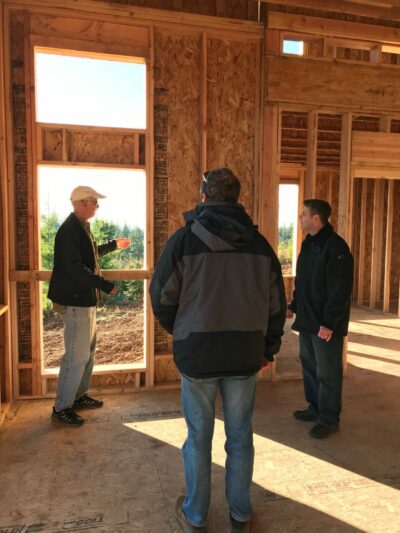 Our owner and President, Chris Sundstrom, has more than 25 years of success leading product and corporate development at Fortune 500 companies, and he uses that expertise to deliver a world-class experience to our customers.  Everyone at Evergreen is driven to make sure your new home is exactly what you need to live your best life. 
We build homes all over Clark County, WA, as well as southern Cowlitz County, including Woodland and Kalama.  We focus on building homes in areas where our sub-contractors and partners live, so you can be sure we not only know the area but have a vested interest in contributing to the quality of life of the local community. 
Our company was founded on the belief that a home's thoughtful design, value, and comfort mean more than just its size. We work with you during every step of the new home building process to deliver what best fits your needs and your style. Whether we're building a new home for you in one of our neighborhoods within Clark County, or a home on property you own in Southwest WA, you can be sure we will work with you every step of the way. 
A new home builder with years of experience and an eye on the future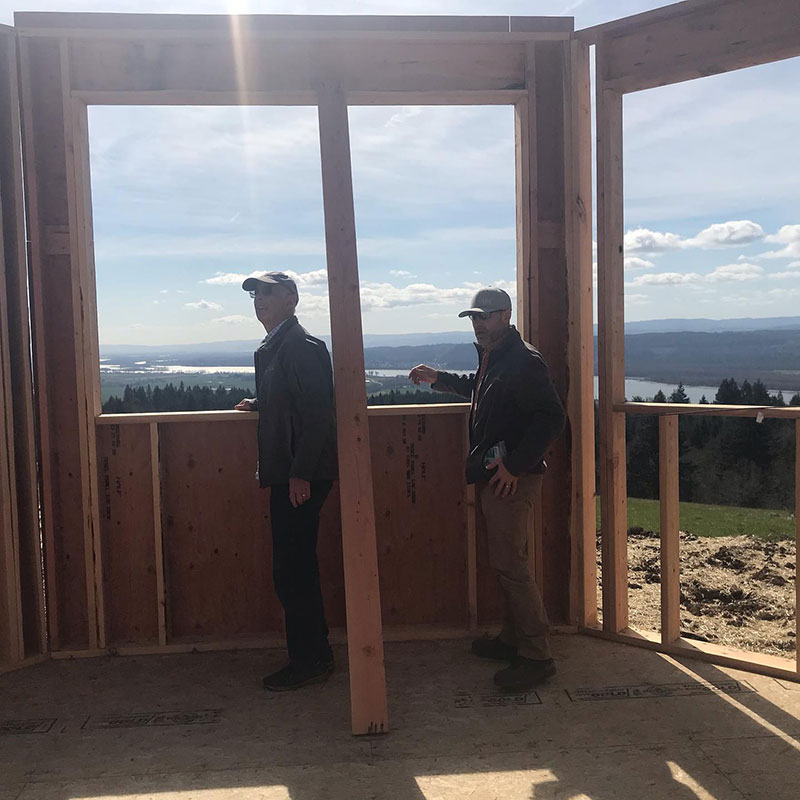 While your home will be new and unique thanks to Evergreen, you can be sure that years of acquired knowledge were poured into every aspect of the house. We have experience building all throughout Southwest Washington and understand how to help you get the best value for your money. 
We offer more than 50 carefully crafted plans to choose from, each with unique features that can be modified to create your perfect home. If you prefer a new home created from scratch, we are more than happy to put our design team to work.
With our years of experience, we know how to build a home that reflects what is important to you.  Are you looking to build a home you can age into? A few ways we can achieve that start by installing a roll-in shower with a bench, removable showerhead and grab bars; lower countertops with space underneath to make room for a wheelchair; and pull-down upper cabinets to make storage more accessible from a seated position. 
How about planning for your pet? We've got options for your furry friend, too. We can build your pet a feeding station or sleeping area that's out of the way of traffic and integrated into the style of your home design. A pet cleaning station with a small shower stall and a shower head on a flexible hose located on the main level or in the garage can take the hassle out of hosing down your hound. We love to brainstorm ideas that will work best for you.
Just because we have years of experience doesn't mean we're not keeping up with the times. Visiting a model home isn't always convenient, so we developed a custom app that you can use on your phone, tablet, or computer to help you shop for your home. The app allows you to browse information about our company, communities, available move-in-ready homes, and floor plans, while also letting you upload your own photos or ones you find online to collect into your idea gallery. You can even apply for a loan through one of our preferred and trusted lenders.
The Evergreen Homes app lets you can scope out our design options to see what style of door lever most closely matches your vision, or identify the specific trim you've been eyeing for the living room. If you're traveling during construction, the project foreman can upload in-progress photos of your home to the app so you can stay informed even while on the road. Our app helps you through the building process from start to finish.
Technology is a great resource during the planning stage but also when eying the future. At Evergreen Homes, we build homes that are Energy Star Certified, ensuring that they are energy-efficient and comfortable to live in from day one. We also build Solar Ready, so that should you decide to install solar panels, your roof is optimized for the best panel placement and the electrical conduit is ready to connect into. With air quality becoming an ever-increasing concern, we install Trane Clean Effects air cleaners so that whether you have allergies or our region is dealing with wildfire smoke, you will breathe easily inside your home. 
Advantages of building a new home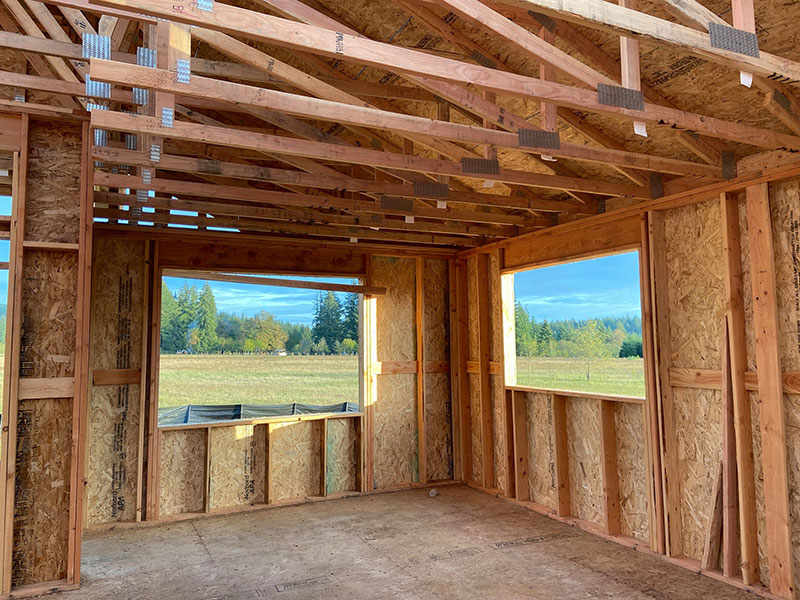 Anyone who has toured open houses or spent many hours scrolling through slideshows of homes for sale knows how time-consuming and frustrating it can be. 
What if you didn't have to settle for someone else's vision for your home? With Evergreen, you don't. We've got the floor plans and experience to get you started and will build your home exactly the way you want it. When you work with Evergreen, we walk you through every step of the new home build, from selecting your lot to designing your home. After framing is complete, you'll meet with our design team to select every finish for your home, including cabinets, counters, flooring, and paint colors. 
You can spend an extensive amount of time looking for your perfect home. Or, you can spend six to nine months from excavation to move in having your custom home built for you. Our support doesn't end once we hand over the keys, either. We have a 2-10 Buyers Warranty, which covers one year on materials and workmanship, two years on mechanical systems, and ten years on structural elements. 
With Evergreen, you'll never be on your own when it comes to your new home build. Give us a call today to start the process of building your dream home.