If you don't already live in Clark County, there are many reasons to move here and the community of Ridgefield is one of the most popular destinations. To make this growing community even more enticing, the construction of a 53-acre sports facility will be completed in Ridgefield this fall. The Ridgefield Outdoor Recreation Complex will top the list of other valuable community assets.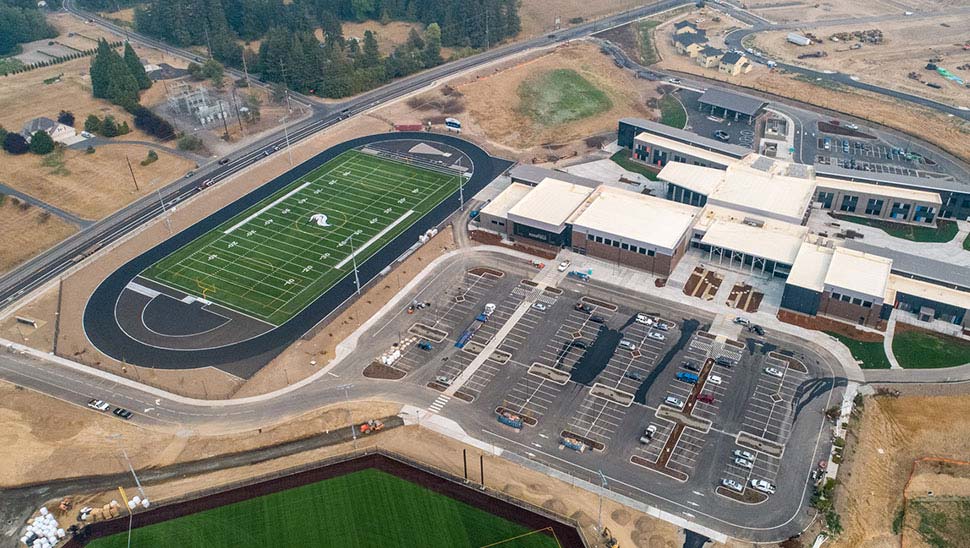 With its proximity to the Portland metro area and picturesque landscape, Ridgefield is rapidly attracting new residents and businesses, which makes it now the fastest growing city in Clark County. More and more, the vibrant Ridgefield community is a place active families and top employers are calling home. From community events to outdoor recreation, there is always something to do in Ridgefield year round.
Meeting a Need
Even with these great qualities, there was something missing in Ridgefield. Most people would agree that every thriving community should have some good quality sports fields—the kind with artificial turf and field lighting. And many people enjoy events at a venue large enough for the community to gather together for concerts and festivals. The Ridgefield Outdoor Recreation Complex meets these needs in one facility.
Big Payoffs
The Ridgefield Outdoor Recreation Complex will also be a huge benefit to Ridgefield schools as well as a source of revenue for the city from sports leagues and tournaments. The features of the new sports facility also include activities for the entire family including walking trails, nature spaces and a playground. The social and health benefits include more active lifestyles and improved quality of life, making for a happier and healthier community. See the latest drone footage of the facility here.
Welcome Raptors!
The newest West Coast League baseball team, the Raptors, will be making their home in Ridgefield. The Ridgefield Outdoor Recreation Complex will be their home base, if you will. The Ridgefield Raptors will be the third West Coast League team in Portland and Southwest Washington, bringing the number of West Coast League teams to 12, including the Portland Pickles and Longview's Cowlitz Black Bears.
Make Yourself at Home in Ridgefield
Evergreen Homes has many floorplans and home designs to choose from in the Ridgefield area. We plan to break ground on our model home in our Royal View neighborhood very soon. If you are interested having your dream home built in Ridgefield, come see us at a scheduled open house, or contact us today!