Happy New Year! And with every new year comes new design trends in the homebuilding industry. This could range from colors (get ready for more of them), materials (so long stainless steel), and accessories (think vintage) that can update the look of your home.
Here are a few trends we've heard about for the upcoming year. Many of these ideas can be incorporated into your existing home or be filed away for when you build your dream house.
More Colors in the Kitchen
White will always be the classic color of choice for most homeowners, but for those looking for something "in the now," adding color to the walls, cabinets and even appliances is the solution. Red base cabinets, dark blue ovens, gray countertops and yellow range hoods can drastically change the overall look of your kitchen one piece at a time.
Another way to provide a little more interest in the kitchen is to use open shelving in lieu of upper cabinets. Different colors of plates, bowls, mugs and serving ware could provide all the color you need. It may not be practical to have everything in a kitchen stored this way, but a little splash of color can go a long way to adding visual interest.
Richer Colors everywhere else
While a candy-apple red oven/range combo might be the perfect fit in the kitchen, it might not work for a sectional couch in your living room. Richer colors, such as rust, browns and deeper reds, can be put to work in the rest of the home. Darker cabinets on the island make a good contrast for kitchens with white cabinets, for example. This could also be achieved through the upholstery, throw pillows, or blankets placed just so. Focusing on different textures will give your home more depth and prevent your choices from running together.
Even The Kitchen Sink
While certain sinks are staples, like the large farmhouse style, their material doesn't have to be. There's no need to limit yourself to stainless steel or porcelain white, as popular materials have expanded to include granite, concrete, stone and even copper. If you're planning on changing other colors in the kitchen, think about the sink material first, and go from there.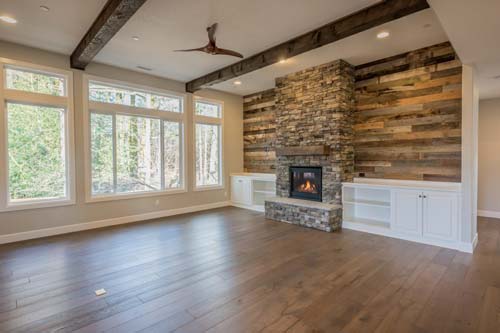 (Really) Retro Lighting
Shabby-chic has made its way to artisan lighting fixtures this year as homeowners turn old chandeliers, sconces, lanterns and other fixtures into quick, rustic redos. Even larger fixtures that you might find hanging from a garage, warehouse or school gymnasium can be retro-fitted for a large, open kitchen or dining area. Just make sure to use more energy-efficient lightbulbs, such as LEDs.
Interesting Bathroom Sinks
Speaking of schools, those long, narrow trough sinks used in many restrooms will start to make appearances in home bathrooms as well. These sinks can be outfitted with two faucets for the kids' bathroom and provide a lot of cleaning area in laundry or utility rooms. Easy maintenance is another advantage.
Shiplap, planks and other millwork for accent walls
Long a staple of certain home-remodeling shows, shiplap is starting to appear in non-televised houses as well. Since it can be installed right over existing drywall, it's a relatively easy and inexpensive way to update a room.
Another highlight: Since it isn't structural or important for insulation, the pieces of wood don't have to be perfect. It can be anything from old fencing planks, pallets, or any other kind of repurposed wood.
Sleek, Simple Bedrooms
Seven-, eight- or even nine-piece bedroom sets are a thing of the past – at least in 2018. Less clutter means less chaos, and removing a dresser or nightstand will be just the thing to keep the bedroom calm. In contrast to the living areas of your home, more muted, neutral colors are also suggested in the cleaner, more minimalist bedroom design. After all, the bedroom should be a place of calm, not a busy rest stop.
Overall trends for 2018 are to add more bold color and texture, while working in a personality-loaded feature from an appliance to a unique sink or light fixture. Of course it's not necessary to completely redecorate your home every year according to the latest trends, but if you're feeling the itch or starting to plan for a new home, work in the elements that speak to you. According to this article in the LA Times, "Knowledge is power, and with an abundance of resources, consumers are more educated about home design than ever." Buyers are becoming more aware of the design trends, and more savvy about what they like.