When designing a home, the homeowner has a list of decisions to make. Ranch home or 2-story? Laundry room upstairs or downstairs? A garage with 2 bays or 3? And that's just the floor plan.
When you have plans drawn up for your next home, carefully think about how your family will use each space and incorporate those needs into the design.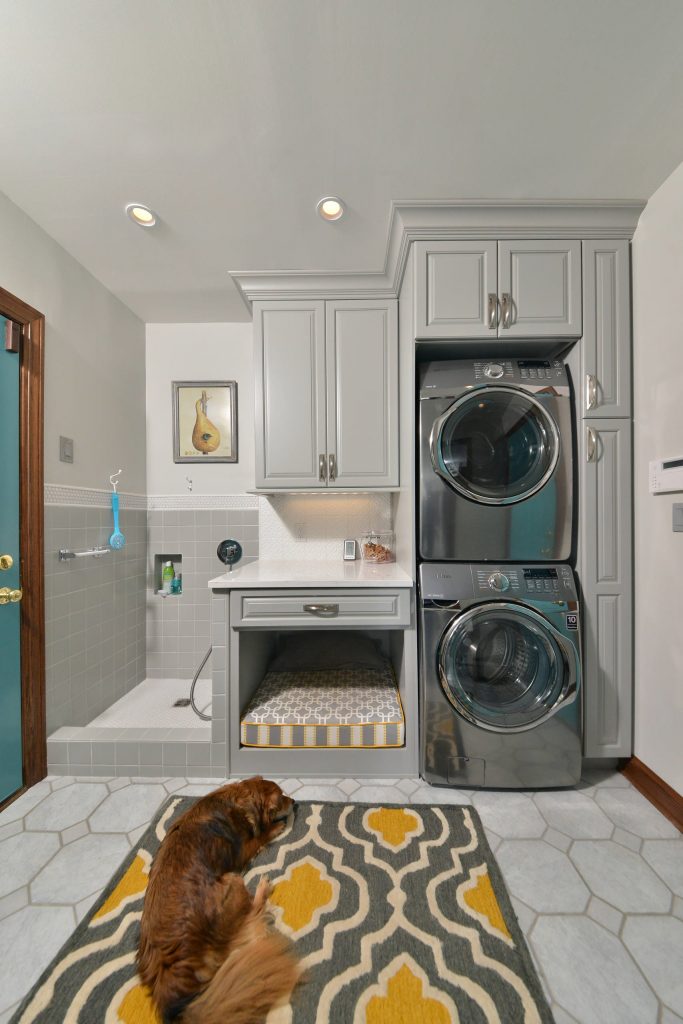 But don't forget about Fido.
For the most part, pets' food and water is stowed in an out-of-the way corner in the kitchen, and the litter box is hidden away in the laundry room. Instead of an afterthought, why not make the needs of your pet part of the design? This goes beyond a heavy-duty laminate or tile flooring that resists scratching: everything from feeding, cleaning, and giving them the freedom to come and go can be added to a new home build.
Feeding
The kitchen is still a logical place for the feeding area if for no other reason than it's easy to keep the water dish filled. There are a few places this space can be incorporated into the kitchen design: at one end of an island, in a lower cabinet, or in a large base cabinet drawer. All three options keep the food off the floor and can even be hidden away while entertaining.
Using the end of an island is handy since food can be stored nearby. To really make the feeding station blend in, match your countertop material, with spaces cut out for food and water bowls. This will keep your pet from pushing the bowl all over the place while eating and keep water from spilling. Consider the size and number of your pets too by raising the countertop height for a large dog or allowing enough room for bowls for the cats.
With a base cabinet, your furry family member can have her own eating nook. This may not work for a Great Dane, but smaller animals will have their very own table for one. It should be easy for them to access, and that's where the pull-out drawer comes in handy. Any dropped food stays contained in the drawer, and everything can be stowed after feeding time. Just make sure your pet always has access to water
Other areas of the home, such as utility, laundry, or mudrooms are areas where these feeding stations can be included. Cleanup is easy, and you won't need to step around pets at feeding time.
Cleaning
Pet cleaning stations are a popular addition for pet lovers and have been included in many home designs in recent years. A small shower stall and removable shower head near an exterior door make it easy to hose off your hound after a day of chasing squirrels or playing in the mud. Consider raising the floor or adding a seat to give your back a break. This stall will allow your dog to shake itself off after bathing and can be kept clean with a few swipes of a squeegee.
Outdoor Access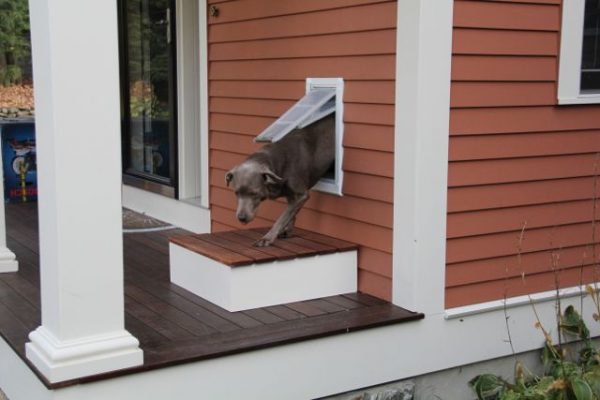 Pet doors have been around a long time and can be placed into almost any door. In fact, you can buy inserts for sliding glass doors to give your pet the freedom to come and go. However, they can be bulky and interfere with regular use. Since there's no rule that says the doggie door needs to be in an actual door, it might make sense to install an opening directly into a wall for your pet. These openings can be trimmed to match both the interior and exterior of your home and dual flaps provide protection from the elements. Some homeowners might have security concerns or fear other critters might be able to get into the house. Several advances have been made in this area, replacing the flimsy plastic flap with sturdier material that only opens when a sensor on your pet's collar signals it's near.
These doors can be used inside the house as well. Adding access to a laundry room door or cabinet will allow the cat some alone time and keep the litter box out of sight (and scent).
Other Ideas
No matter how well designed, many homes have nooks and crannies that can't be used for anything that adds value – all the square feet located under the staircases for example. Instead of walling that entire area off and calling it storage, why not keep a portion of it open and add a pet bed? This design idea could be used anywhere cabinets are installed – just leave one area open, and your pet has a place to call its own.
When building a new home, the comfort of the homeowner takes center stage. With a few tweaks to the design, our furry friends can be made just as comfortable.