At Evergreen Homes, we believe thoughtful design, value and comfort are of paramount importance to our customers. No matter the square footage of your dream home, our experienced team will maximize the potential of each square foot while providing quality, value, and customer satisfaction each step of the way.
Our approach to home building delivers more than just a house; it crea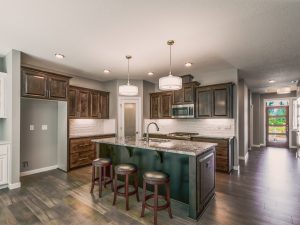 tes long-lasting relationships between ourselves and our customers. We will proudly be your trusted partner, helping you to create a new home plan or tailor an existing plan to your needs, all while keeping the process as easy and affordable as possible.
If you are considering building the home of your dreams, there are multiple factors to keep in mind, and we will guide you each step of the way.
Evergreen Homes' Custom Homes
Our team strives to design and build you a home that exceeds your expectations.
We have many plans that can be modified to create a custom plan that is exactly right for you. If none of them are what you had in mind, we can also start from scratch.
One of our skilled foremen will oversee the construction of your home and will keep you up-to-date on the progress and schedule key walkthroughs with you. Please visit on site as often as you like, or if you live a distance away we will keep you updated with frequent photos and emails.
Development
With proper planning, constructing your custom dream home can be exciting as well as easy! We have been constructing homes for many years, and our process and attention to detail ensures that the construction of your new home goes smoothly and efficiently. We are certain that your completed home will bring you joy every time you walk through the front door.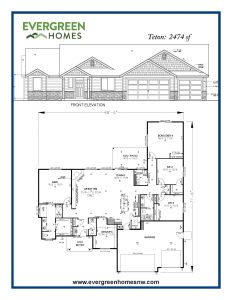 Choosing Your Lot
Whether you want your new home to be built in Clark County or the Tri-Cities area, we have many great options for you:
Clark County:
A rich diversity of neighborhoods in the greater Vancouver, WA and Clark County region means each of our new construction areas are unique, and provides many options. From breathtaking views of Mt. Hood, or the convenience of being minutes from I-5 or I-205, we invite you to explore all of our new construction neighborhoods to find the best fit for you. We will assist you in finding the right new home construction lot to build on anywhere in Clark County.
Tri-Cities:
The Tri-Cities area consisting of Kennewick, Pasco, and Richland, also offers desirable neighborhood options. Take in the views from Lexington and Brantingham Heights, or the community of South Richland. Kennewick's newest neighborhood, Cherry Creek, offers its own charm as well. Seeking a neighborhood somewhere else? We build new custom homes on any available lot in the Tri-Cities, and we'll help you find yours.
Evergreen Homes Properties
With over 50 Design Plans to choose from, we are certain you will find your perfect match. Each of these designs offers unique features and can be further modified to make it a perfect reflection of your desires. Prefer a house designed from scratch? We can help you with that as well!
Contact the helpful and knowledgable staff at Evergreen Homes today, and we will build your dream home together.