Evergreen Homes had a great year in 2019. Several of our custom "on your own lot" builds have been completed or are near completion, to the delight of the new owners. We're looking forward to completing more beautiful, practical, and energy efficient homes for our customers in 2020.
Local market reports indicate the Clark County housing market closed out 2019 on a high note. With the strong sales activity in the first half of the year, and a high rate of closings in December, the numbers indicate it was one of the best years for total sales since 2005. With things looking so good, it makes us wonder about the worries of a looming recession we hear circulating.
The connection between the last recession and the housing market is still fresh in many of our minds. However, unlike the Great Recession that hurt homeowners so badly, the overwhelming consensus in a recent survey by Zillow of real estate experts is that the next recession won't be triggered by the housing market, and no one knows exactly when or even if we'll have a recession any time very soon.
Last month's 2020 Economic Forecast breakfast supports this prediction with a panel of speakers presenting data highlighting the 11-year record national growth that doesn't show signs of ending, and consumer confidence expected to continue at the highest level we've seen in 20 years. Clark County's housing market received a good review with the highest percentage of new homes in 2019 of the four counties in the Portland Metro area.
With the high rate of closings and typical offseason slowdown of new listings in December, we've started 2020 in Clark County with a low inventory and high demand, which is good news for local home builders – but can be frustrating for buyers experiencing limited homes to choose from. A couple of pro tips for buyers:
Get your finances in order and pre-qualify with a reputable lender, so you can make a strong offer when you do find the right home.
Consider positioning yourself to be able to build. If you aren't able to find the right home to meet your needs, find a custom builder to build what you want within your budget.
A good economic outlook is good for everyone, and while you might think building houses is seasonal, winter is no time to rest on our laurels. Construction is a year-around business, even in the rainy Pacific Northwest weather.
Ridgefield continues to be the area experiencing the most growth. Our first few homes built in Royal View now have new owners! We're also building several homes in Royal Terrace, where our new model home was recently completed.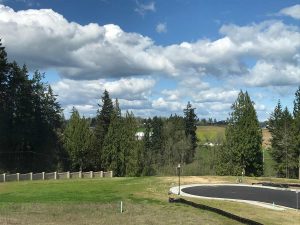 In addition to Ridgefield, we're continuing to build in our Riverview Heights community in Washougal, which currently has one lot remaining.  Construction is also underway on our model home and one spec home in Vancouver's Erin's Meadow neighborhood.
We're working on developing lots in La Center as well, where we plan to begin building later this year.
We really love what we do. It inspires us to receive positive feedback from our customers on our well-designed, energy-efficient, solar-ready homes, and we take great pride in our attention to detail and quality craftsmanship. We build homes for comfortable living, whether the family is a multi-generational household, young family, or empty nesters.
We look forward to continued growth in 2020 and handing our customers the keys to more beautiful custom homes this year.